CT Style With Ryan & Sarah Making German Pancakes!
I had a blast today on CT Stlye with Ryan Kristafer and Sarah Cody making German Pancakes. It was so nice to meet Sarah and with Ryan's fun sense of humor I thought it would be a good idea to bring some Halloween props to the set today. Being so involved in what I was cooking I almost forgot I had these props on the shelf behind me. Leave it to Ryan to see the plastic bloody hand and the laughs carried on!
Fall is such an incredibly exciting season. The aroma's of the season are enticing for sure. People begin to get into a nesting faze and the baking begins. I love having family and guests over for the holidays and these German Pancakes have always been a big hit. I was turned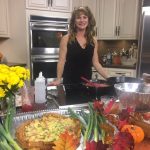 on to German pancakes some 20 years ago by my Vermont friends and have been making them ever since.
My son loves to eat the German pancakes with maple syrup where as my daughter likes them with butter. I on the other hand like them with jam, berries and maple syrup.  That's why I show you how to make a quick strawberry jam.
This quick jam is so simple, it's worry free. You make the strawberry jam in 15 minutes while the German pancake is in the oven baking. You need to skim off the white foam that accumulates around the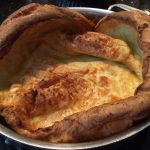 edges of the pan while the strawberries simmer otherwise the jam will be cloudy. While warm this jam makes a wonderfu sauce and as it cools it thickens into a lovely jam. This recipe only makes one small jar, just enough, and must be kept in the refrigerator. It stays good for a couple of weeks, perfect for your breakfast toast.
Hope you have as much fun watching the cooking segment of CT Style as I did being there! xo
Check out these other fall dishes that may interest you like Mediterranean Layered Dip, Eggplant Balls, Lazy Mans Lasagna,  Lobster Mac N' Cheese, and don't forget my Chocolate Eclairs! Enjoy 🙂