CT Style with Ryan Kristafer & Sarah Cody Getting Ready for Thanksgiving!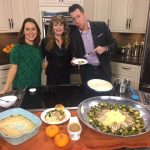 It was a special day on CT Style with Ryan Kristafer and Sarah Cody sharing one of my favorite childhood dishes in memory of my Grandma Reilly. I never did get her recipe for her Creamed Onions or pies but she was the inspiration behind my recipe that I have been making for over 20 years now. Cooking in The Bender KItchen, hanging out with Ryan and Sarah was the perfect way to start my Thanksgiving holiday this year!
Thanksgiving is one of those holidays that can truly drive you crazy if you don't do any planning because there are just too many side dishes to make. Needless to say, a little planning goes a long way!
On CT Style I wanted to show you some of the dishes that are total time savers for this Thanksgiving. My Icebox-rolls dough can be made 4 days ahead, shape and rolling out the rolls, dredging in green onions the day before. These icebox dinner rolls are then
ready to pop into the oven when your guests arrive giving your house a warm and fuzzy feeling with aromas of homemade baked bread!
The yummy Best Brussel Sprouts Ever are drizzled with olive oil, chopped garlic and roast for only 25 minutes on 350º without any flipping or fussing. These can be made the night before because the sprouts keep their bright green color and crispness when re-heated the next day!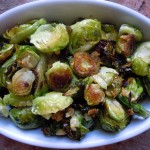 My Perfect Pie Crust in 5 Minutes is to die for and can be made 1 month ahead, put into the freezer and thawed in the frig 2 days before you need it! Roll out the pie dough the night before Thanksgiving and then bake your delectable Chocolate Pecan Pie the night before and violà! Not to mention, the Chocolate Pecan Pie recipe is a melt in your mouth gourmet recipe …it may just be the hit of your holiday!
Finally, there was talk of a Creamed Onion competition recently at Page Hardware in Guilford with owner Andrew Page when we were discussing future cooking demos at Page in the new year! So there just may be a "Creamed Onions" competition coming as well! Page has quite the array of high tech steam ovens, stoves and so much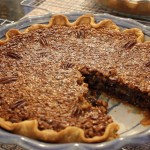 more…it's almost difficult to pay attention to conversation surrounded by all the beautiflul stainless steel! You really have to check them out. I will keep you all posted on The Traveling Epicurean Cooking Demos and the "competition" in their amazing kitchens at Page in January of 2018!
I want to wish everyone a Happy Thanksgiving! Let me know how your recipes turned out and about any new ones that you tried! xxoo