CT Style in The Bender Kitchen Making "Lazy-Man's Lasagna"!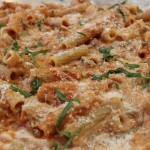 With all our crazy schedule's during this busy holiday season I wanted to present an uncomplicated dish on the CT Style Show today that could be made in mere minutes yet still taste absolutely delicious, so I opted for my "Lazy-Man's Lasagna" (click here to go to recipe page).
I have such a great time doing the cooking segment on CT Style and this time around I had both Teresa and Ryan with me in The Bender Kitchen so it was double the fun!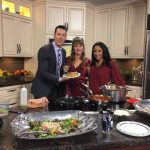 You can be creative with this lazy-man's lasagna by changing the meat you use to what ever your favorite type is. What's nice about this dish is having all the luscious flavors of a lasagna but without all the work. It's a win-win in my book!
You may want to try making the Fennel and Citrus Salad with a TangerineDressing that I made for the CT Style crew. Growing up in an Italian family we ate a lot of fennel, cooked and raw. Fennel is both refreshing and delicious especially in salads. It has a very mild licorice flavor with a crunchy texture. If you have never tried it you ought to give it a try, it just might surprise you! Or you may want to make my signature Caesar Salad with Homemade Garlic Croutons.
All this talk about meatballs with Teresa and Ryan and you may get a craving for an amazing Meatball Recipe with a little kick- Secret Meatball Recipe at Glenn's New Haven Apizza, or my tender and juicy Turkey Meatballs. You know me, can't end a meal without a sweet so let's get busy with some Honey-Dripping Baklava! Enjoy! 🙂