Creamed Spinach
When you think of creamed spinach you usually think "fancy steak house". Well who knew you could make a rockin creamed spinach right in your own kitchen that would give any steak house a run for it's money!  It's thick and creamy made with spinach, finely chopped sweet onions, heavy cream, butter, Reggiano Parmesan, Worcestershire sauce and a dash of hot sauce. The sweet onion's melt away into the creamed spinach leaving a lovely subtle flavor, and there's no need for flour here either. Try giving the creamed spinach a little squeeze of lemon at the end to brighten all those luscious flavors!
Some 20 years ago I was taught this recpie from a big foodie friend, Warren, out in Mill Valley, California. When I go to a steak house now I find myself slightly biased with standards of expectations to be met. Warren says his recipe originated from Trader Vic's which makes total sense considering everything they make is exceptional. I'm sure you remember my scrumptious appetizer "Bacon Wrapped Water Chestnuts" that originated from Trader Vic's!
When you get ahold of a recipe like this creamed spinach it becomes part of your repertoire of easy gourmet "go to's".  Just like the recipe Warren's brother, Jim, gave us when I showed you how to make those amazing homemade Salmon Gravlax last year, another perfect dish for this holiday season, by the way!
This is the only creamed spinach recipe you will ever need. It can also be a base for other creations. If by some chance there is any of this delicious creamed spinach left over it freezes wonderfully for future concoctions.
In the past, I have thawed left over creamed spinach, added in fresh chopped tomatoes, garlic thru garlic press, feta or swiss cheese, seasoned bread crumbs, a drizzle of olive oil and made baked stuffed mushrooms and tomatoes. Have even added in raw bay scallops and crab to that mixture above to make baked stuffed artichokes! YUM!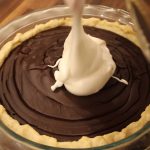 Enjoy this recipe for the up and coming holidays. It would be outrageous with your turkey dinner or a filet mignon! While you are at it you should try my Crab Cakes, Homemade Gnocchi or Caesar Salad and don't forget something sweet and yummy like Honey Dripping Baklava or a festive Chocolate Meringue Pie!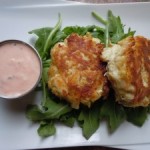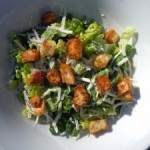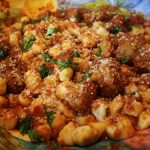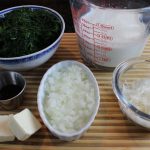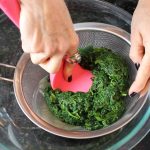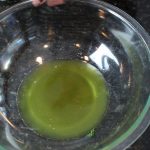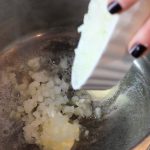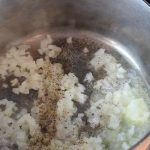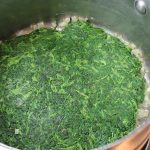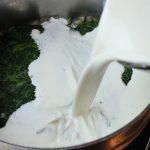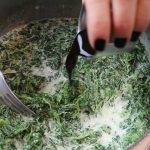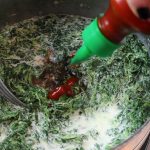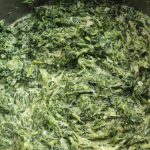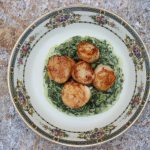 Ingredients:
2 pkgs frozen CHOPPED spinach – thawed
1/2 cup FINELY chopped Vidalia onion
1/4 cup grated Reggiano Parmesan
1 1/4 cup heavy cream
3/4 cup half & half
1 tbsp Worcestershire sauce
2 tbsp butter – to saute onions
a few dashe sof your fave hot sauce – I like Siracha (you can find it right next to the Tabasco at most stores)
1/2 tsp sea salt, PLUS 1/4 tsp after simmering-you should taste it here to make sure
1/4 tsp finely ground black pepper
a little squeeze of fresh lemon (1 tsp) for a pop of flavor
Directions:
Thaw 2 frozen pkgs of chopped spinach
Put thawed spinach into strainer over a medium bowl and push out water with a spatula
Fold 2 strong paper towels, Bounty, keep dabbing and drying the spinach with paper towels
Melt 2 tbsp butter in a medium sauce pan
Add finely chopped onions and 1/2 tsp salt & 1/4 tsp pepper to melted butter
Sauté on medium/low for 5 minutes – you don't want any color here just until soft and translucent
Add spinach to sautéed onions, along with heavy cream and half & half
Combine with a fork and add Worcestershire sauce and a dash of hot sauce
Bring to a low simmer and cook for 22 minutes, stir at 10 minutes and taste here …you will probably need another 1/4 tsp salt here
REMOVE from heat and stir in Parmesan
Optional: Add a ittle squeeze of fresh lemon (1 tsp) to brighten all those wonderful flavors