Chilean Sea Bass with Green Goddess Sauce II
Chilean sea bass is full of flavor and has large meaty flakes. This is an oily fish so you need to have some kind of citrus to balance it out and that's why my green goddess II is a perfect match!  The lemon and mint in the green goddess II are key flavors in complimenting the sea bass. I am all for cooking fish rare, even sashimi style but you cannot eat this fish under done. Chilean sea bass turns gelatinous and rubber-like when under done while on the other hand when cooked properly, even slightly over, turns it into a buttery, soft fish.
I think presentation is important when friends are over for dinner and you are plating the meal but keeping it fun without a lot of work is even better so you can enjoy being with your friends. That's why I came up with my baked sweet potato haystacks. Not only are they delicious and good for you but are super easy to add to the garlic-spinach and sea bass layers making for some good eye candy.  Use a kitchen zester to make the potato strings. It's really quite easy and they only bake for 10 minutes and no more or the strands of potato begin to burn.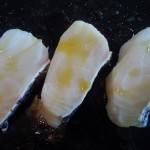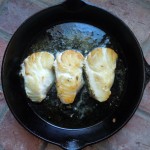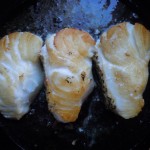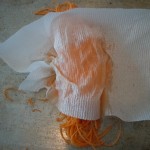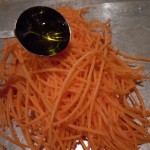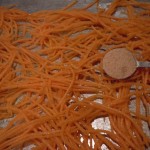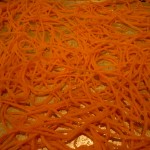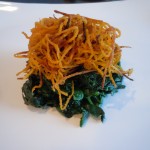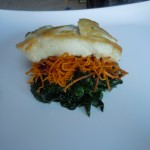 Ingredients for the Chilean Sea Bass:
4 4 oz pieces of Chilean sea bass
1 Tbsp olive oil

green goddess sauce II

recipe
baked sweet potato haystack recipe (below)
1 sliced lemon (a Meyer lemon if it's available)
salt and pepper to taste
Directions for the Sea Bass:
Pre-heat oven to 350º
Rub olive oil on seabass
Add dash of salt and pepper
Heat up the sauté pan on medium/high heat
Add sea bass to the hot pan and sauté 4 minutes on each side
Put pan into the oven for 8-10 minutes
Layer on a plate a small mound of fresh sautéed spinach with garlic
On top of spinach put a pile of sweet potato haystack
Place a piece of sea bass on the very top and drizzle green goddess sauce II around plate and serve with a lemon wedge
Ingredients for the Baked Sweet Potato Haystack:
1 large sweet potato
2 Tbsp oilve oil
1 Tsp onion granules (do not use garlic …they make the potato strings bitter)
1/2 Tsp salt
Directions for the Baked Sweet Potato Haystack:
Pre-heat oven to 375º
Use a potato peeler to peel the skin off of the sweet potato
Then begin to zest strands from the sweet potato
You will get little mounds of pulp like texture from the potato while you are zesting so just keep putting that aside…you don't want the pulp in with the haystack strands.
Once one side is hallowed out just flip the potato around and zest the arc of the other side
Take the pile of sweet potato strands, place them on a cookie tray and squeeze them with a paper towel to get some of the moisture out.
Add 2 Tbsp olive oil
Add 1 Tsp onion granules and 1/2 Tsp salt and mix stands with your hands
Using your fingers spread strands in an even layer on the cookie tray as best as possible
Bake for exactly 10 minutes
Take out of the oven and scoop mounds of potatoes onto the beds of spinach to make your sweet potato haystacks
Then place your fish on top of the haystack and drizzle green goddess sauce II around the plate