Chicken Piccata-Easy Gourmet
My Chicken Piccata-Easy Gourmet recipe really is an uncomplicated dish that will knock your socks off! The chicken cutlets are so tender that they are almost falling apart in it's delicate wine-shallot sauce with capers, paper thin Baby Bella mushrooms and fresh squeezed lemon is truly amazing. It has a delicate zing from the capers, and a brightness from that fresh squeezed lemon at the end. I serve up this chicken piccata with fresh sautéed spinach and mashed potatoes that just seems to pull it all together almost making it a comfort food with the mouth watering wine gravy and mashed potatoes. It is a dish that you may just start to crave! It only takes about 30 minutes to make so it should definitely be part of your cooking repertoire considering how incredible it tastes!
Even my kids love it although I do put aside several pieces for them at the point right after I deg-laze with wine and before I add the mushrooms and capers because that's just not their thing …yet! -This way everyone is happy.
I don't use too much butter in this recipe. I don't think there is a big need for that with all these amazing layered flavors from the chicken, shallots, mushrooms, capers, white wine, chicken broth and lemon juice.  The light flour coating on the chicken when dredging it to sauté helps to thicken the sauce right there.  I see many recipes adding a ton of butter "to thicken" it and it's just not necessary. Enjoy making this tasty dish and be sure to watch it on my Chicken Piccata cooking show video either posted right here (listed under "videos" tab above) or on my YouTube channel.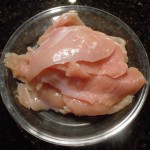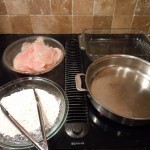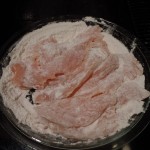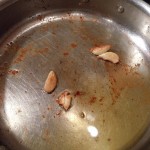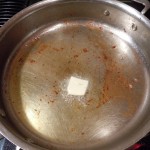 Ingredients: Serves 4-6 people if served with mashed potatoes and fresh sautéed spinach
3 lg chicken breasts or 4 med. sliced into 3 and pounded thinly
3 tbsp lg capers (or sm if you prefer…they're all good)
3 tbsp. finely chopped shallots
2 cups white wine (approx. 1/2 cup for each chicken deglazing and 1/3 c. for mushrooms and approx another 1/2 cup at the end to simmer…NOTE in my video I did say 1/4 cup at each stage but oops I used a little more than that : )
1/3-1/2 cup chicken broth
6 lg BABY BELLA mushrooms sliced PAPER thin
1 wedge of lemon for the end
6 lg garlic cloves just smashed to sauté and flavor olive oil
1/2 cup olive oil
1 tbsp butter
1 1/2 cups of all purpose flour
1/2 tsp salt and 1/4 tsp pepper for flavoring flour
1 recipe fresh sautéed spinach (can leave out garlic in recipe)
1 recipe mashed potatoes (can leave out red onion)
Directions: Approx. 30-40 minute to prep and cook
Either buy chicken breasts pounded out at your local butcher or cut each breast into 3 horizontally and pound out each one gently to 1/4″ thickness
Put flour into shallow dish and season with s & p
Dredge pounded chicken breasts in flour and leave in flour dish ready to sauté
Heat large, shallow pan on med/high
Add 3 tbsp-1/4 cup olive oil to pan while heating
Add 3 garlic clove to olive oil and sauté til golden to flavor pan
Remove garlic cloves and begin to sauté chicken breasts filling entire pan (this will be done in 2 batches)
Make sure the pan stays hot enough on med/high heat while cooking breasts
Cook chicken approx. 2 1/2 minutes on each side
Add 1/4 white wine and deglaze, place cover over for 1 minute
Remove cover and remove first batch of chicken to baking dish using a spatula to scrap out all of the gravy and bits
Put pan back on med/high heat and repeat #5-#11.
Now add 1 tbsp butter, finely chopped shallots and paper thin sliced Baby Bella's to the pan and sauté til water renders out of mushrooms and they are a light golden
OPTIONAL: you can finely chop the golden sautéed garlic cloves and add them back in at this point or not
Deglaze mushroom and shallots with 1/4 cup wine and cover for 30 seconds
Remove cover and add all the chicken breasts back into pan
Add 1/4 cup wine and 1/4 cup chicken broth to pan and turn down to med/low
Simmer 5 minutes ONLY …don't want too much of the sauce to evoporate
Either serve immediately or put into frig until your guests arrive and then PRE-HEAT oven to 325º and warm for approx. 30 minutes with pan COVERED-if too much of the sauce evaporates you can add a splash of white wine and chicken broth
Add s & p to taste
Right before serving squeeze a wedge of lemon on chicken breasts ( about 1 tbsp) and serve over mashed potatoes and fresh sauteed spinach