Eggplant Timbale at Adele's
When Adele first told me about her lovely dish I was very excited to get this on camera for you. Actually seeing this eggplant timbale being unmolded when you release the sping form pan its baked in is a whole other story! It really is one of the prettiest dishes I have ever seen not to mention it's absolutely delicious. The pasta filling is exactly like my "Lazy Mans Lasagna" and then you have the outer wrapping of the fried eggpant slices that bring the flavors to another dimension. 
I love this dish beacuse it's fairly easy to make if you can plan ahead. Now if you have not been frying eggplant your whole life as Adele and I have there certainly would be no shame whatsoever in going to your local Italian deli around the corner and buying already fried eggplant slices! While you are there you can pick up the meatballs too. Then all you will need to do is assemble this magnificent dish. Taking advantage of this convenience allows for last minute planning here which can be a godsend! Trust me you will have as much fun as Adele and I did putting it together. When you present this eggplant timbale at your next holiday dinner the ooh's and aah's alone will have you sold!
When you make this eggplant timbale for your next holiday dinner you'll need some easy holiday appetizers like Baked Asparagus Wrapped in Prosciutto, Crostini w/Gorganzola, Tomato & Basil, and Goat Cheese, Fig Jam, Fresh Pear & Mint in Pre-Baked "Fillo" Cups! My Gourmet Caesar Salad is a must, and some Zucchini Torta would be a nice surprise for your guests also! This Chocolate Pecan Pie is to die for and don't forget my chewy chocolate chip cookies for the kids.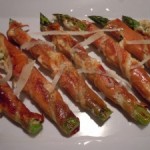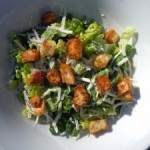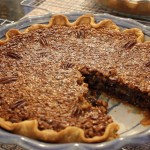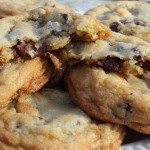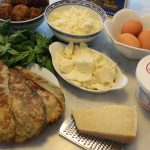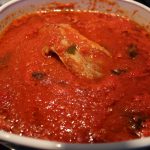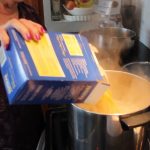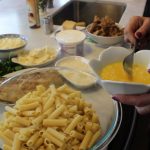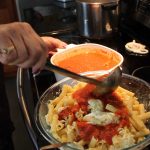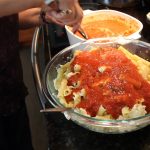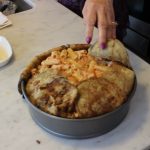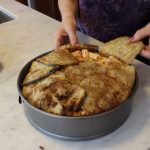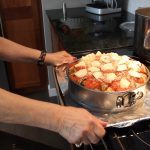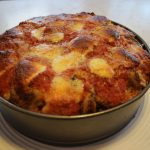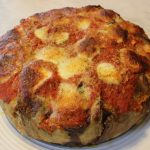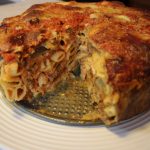 INGREDIENTS for Eggplant Timbale:
1 lb. rigatoni
8 meatballs broken up into 3/4″ pieces
9 prepared/cooked eggplant parmesan slices (w/o sauce)
NOTE: If you are making your own eggplant you can switch out the bread crumbs to flour-either way will be delish….she dips her eggplant slices in flour first, then egg and then she fries the eggplant same as in my eggplant parm recipe except she doesn't use bread crumbs
2 cups shredded part skim or whole milk mozzarella, plus 2/3 – 1 cup for topping (use the packaged mozz. here not fresh)
2 cup whole milk ricotta cheese
2/3 cup grated Reggiano Parmesan
3 extra lg eggs whisked
8 cups tomato-basil pasta sauce 

(4 cups to mix in with pasta, 2 cups to top timbale and 2 cups to serve on the side for extra)

(1)- 9″ spring form pan
DIRECTIONS:
Pre-heat oven to 450º
Cook 1 lb. rigatoni pasta until ADENTE, a little firm because you will continue to cook the pasta when you bake it in the oven
Drain the aldente pasta BUT do not rinse!
Add cooked pasta to a large bowl
Add in whisked eggs, ricotta, mozzarella, Parmesan and mix to combine
Now pour sauce in and mix gently to combine again
Add in broken up meatballs and gently mix
Spray spring form pan with Pam
Lay prepared eggplant slices all around pan meeting in the center like a flower with edges folding back out of pan
Add pasta mixture into the center of the eggplant drapped spring form pan
Fold over the eggplant slices covering the pasta filling
Add the last 9th piece of eggplant to cover the opening in the middle where the eggplant doesn't reach
Pour 2 cups sauce over the top of the eggplant timbale, sprinkle with parm & then 2/3 – 1 cup sliced mozzarella
Put timbale into pre-heated 450º oven and bake 5 minutes
Turn oven down to 400º and bake 20 minutes more until bubbly
Take out and let sit 15 minutes…very important to do this
After 15 minutes release spring-form pan from eggplant
Carefully slice timbale and serve with a sprinkle of Parmesan and a side gravy boat for extra sauce