Torta de Pollo with Chef Mark
Torta de Pollo is a delicious and innovative way to change up the ole chicken pot pie not to mention it's a down right fun thing to do! That's what Chef Mark has done here layering tortilla's with chicken and vegetables instead using a traditional pie crust. A Spanish Dry Sherry, called Amontillado, certainly takes this chicken pot pie version to a new level. Using these tortilla's will save you time from making and fussing with a pie crust and who doesn't love that.
Chef Mark has some wonderful flavor building steps going on here in his Torta de Pollo as he graces us with his truffle salt and Himalayan salt rock.  Let's not forget his de-glazing of the veggies with this Spanish Dry Sherry called Amontillado by Savory and James that every kitchen should carry for a mere $13 a bottle. It would be silly not to have this in your cubbard!
Using the tortilla's instead of the pie crust gives this Torta de Pollo an almost creamy texture. Changing up a chicken pot pie recipe like this, swapping out the tortilla's for the pie crust, is such a creative and easy thing to do. It reminds me of a couple other of my favorites like chicken enchiladas or chicken cordon blue because of the swiss cheese in with the layers.
No baking time is another wonderful feature of this recipe. Once you sauté the veggies and make the "special sauce" consisting of chicken stock, rosemary, heavy cream and Spanish sherry you then cover the torta with this delectable sauce and flash broil it for 3-5 minutes…voilà! You certainly won't be disappointed with this one! Enjoy and have fun using your favorite vegetables!
My BEST Crab Cakes with Homemade Thousand Island Dressing would make a great appetizer addition to the Torta de Pollo, and, or my Baked Aparagus Wrapped in Prosciuto. Don't forget to have a yummy salad on the si
de like a Caesar Salad with Homemade Croutons or Fennel and Citrus Salad with a Tangering Dressing! You'll definitely need a sweet in your back pocket so go for the Death by Chocolate Meringue Pie and that should do the trick!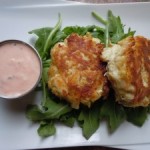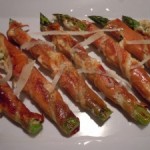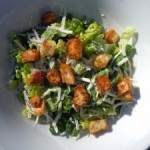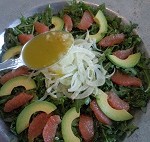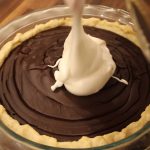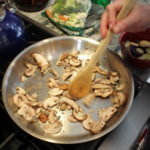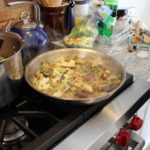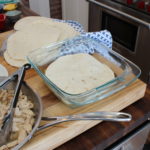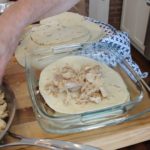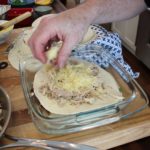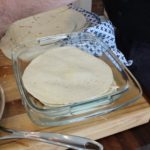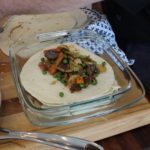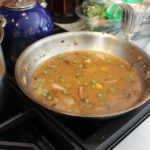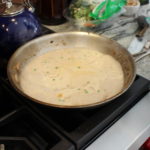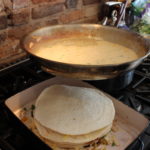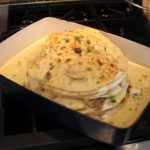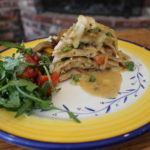 Ingredients for Torta de Pollo:
1 rotisserie chicken
1 pkg 8″ flour tortilla's
3/4 cups Emmetaler Swiss cheese – NOTE: 1/4 cup is for "the special sauce"
3/4 cups Comté cheese – NotE: 1/4 cup is for "the special sauce"
1/2 cup each chopped broccoli and cauliflower
1/4 each, julienne parsnips, chopped peppers & celery
1/2 lb portabella mushrooms thinly sliced
1/2 lb small assorted colored potatoes, purple & yellow THINLY sliced
1/3 cup frozen peas
1 lg garlic clove thru press
1 shallots sliced
1 cup chicken stock
1/3 cup dry sherry
1 1/4 tsp salt (truffle salt if you have it)
1/4 tsp pepper
2 tbsp olive oil
9 x 13 baking dish (will be wider then the tortilla's
fresh rosemary for "Special Sauce" – recipe below
1 cup heavy cream for "Special Sauce" – recipe below
Directions for Torta de Pollo:
Remove all the meat from the rotisserie chicken
Slice up the chicken to bite size pieces and set aside
Add remaining rotisserie chicken, the bones & the skin to a medium size pot and add 1 celery stalk, onion skin, and 1 carrot cover with water and bring to a simmer for 1/2-1 hr
Warm sliced de-boned chicken in a medium pan with 1 cup chicken stock on low heat
Put sliced mushrooms in a hot sauté pan and cook for 5 minutes, stir after a minute…don't worry if they seem to stick it's ok
Now add 1/4 tsp salt to mushrooms
Move sautéed mushrooms to the side and add in 2 tbsp olive oil with the slice potaotes
Sauté potatoes for 3 minutes
Then add parnips, peppers, celery, garlic, shallots and lemon zest
 Add in broccoli, cauliflower, cook 1 minute
Deglaze with 1/3 cup dry sherry
Add in frozen peas, add 1 cup chicken stock, bring to a simmer
Stir in 1/2 tsp salt and 1/4 tsp Berbere spice
Let veggie reduce 5 minutes until most of the liquid has evaporated
Put wrapped 10-12 flour tortilla's in foil in a warm oven
Begin to layer Torta de Pollo
Add 3 tbsp chicken chicken stock to bottom of baking dish
Begin with tortilla, then 1/2 cup chicken & 1/4 cup swiss, then a tortilla, 1/2 cup veggies (without any excess juice), tortilla, and repeat until 10 layers – 4 or 5 chicken layers & 4 or 5 veggie layers. Note: push down slightly as you are layering to keep shape flatter
Make "Special Sauce" -see below
Pour all the sauce over the Torta de Pollo and place under the broiler for 3-5 minutes, til slightly bubbly
Slice and serve with a drizzle of extra sauce over the top…mmm!
Ingredients & Directions for "Special Sauce":
1 cup chicken stock
1/3 cup dry sherry
1 cup heavy cream
1/4 cup shredded Comte swiss cheese
1/4 cup shredded Emmentaler swiss cheese
1/2 tsp salt
1/4 tsp pepper
1 tsp fresh chopped rosemary
Using same veggie sauté pan add in first 3 ingredients, and bring to a simmer for 5 minutes
Reduce slightly and then stir in cheeses, rosemary, s & p
Pour over Torta de Pollo to place under broiler