Yogurt Chicken Kabobs, Tzatziki & Toum At Maria's
Wow, this gourmet yogurt marinated chicken kabob recipe is the most scrumptious marinade I have ever had on chicken. It will be my new favorite marinade for summer grilling! There is really nothing to putting together this marinade and the results are outstanding. The grilling goes really quickly here too because you cube up the chicken into small pieces so it only takes about 7-8 minutes for each side on high heat.  I know I will be baking my chicken with this marinade over the winter months. Maria got this yogurt-marinated chicken kabob recipe from epicurious.com and of course making a couple of adjustments as I go through my own test kitchen adding in the fresh ground coriander and the "smoked" Spanish paprika giving it that hint of something extra that I was looking for.
The combination of these three gourmet recipes together are packed full of flavor! My favorite is actually having  this dynamic combo on some warmed or toasted naan adding in a chewy soft texture to this heavenly dish. Using the toum, the garlic Lebanese sauce as a baster for the breads and vegetables when you are grilling in a no brainer.
This homemade gourmet sauce called toum is such an unusual sauce because it's hard to initially imagine how such a thick and creamy texture can come about from peeled garlic cloves and vegetable oil! You must be patient with this recipe as the slow drizzling of the vegetable oil is crucial in the emulsification of this garlic-oil combo but the efforts are well worth it. Watching the show to see how I get the sauce thick and foamy I hope will help clarify the "how to's" of it. This toum sauce will last up to 2-3 weeks in your frig and who's better than you with this little hidden gem just waiting to put a flavor punch of silky garlic on your sauteed veggies, garlic breads, meats, fish, chicken… the options are really endless.
Maria's homemade tzatziki sauce is a recipe I'm sure you will love and want to add to your go to recipes for summer. The way she has you drain the whole fat Greek Yogurt makes this sauce even creamier and gives your mouth a smooth silky texture yet refreshing at the same time with the grated cucumber, and vinegars and fresh lemon juice. This sauce can easily be used as an amazing dip with pita chips. It's similar to my cucumber & Vadalia onion salad but definitely different. So nice to have a couple different styles to choose from.
This Mediterranean night of exotic spices and flavorful recipes will not be easily forgotten. You just may start to crave these homemade dishes sooner than you think. I hope you enjoy the show and the gourmet yogurt marinated chicken kaobs, tzatziki and toum recipes.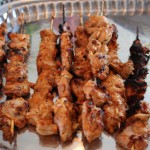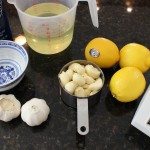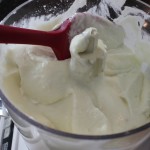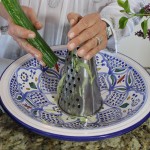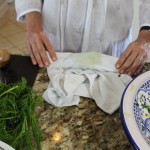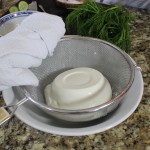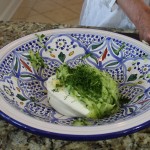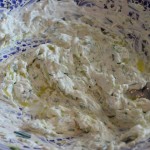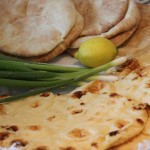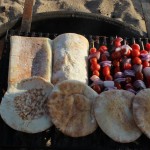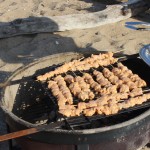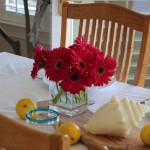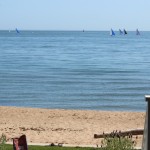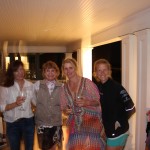 INGREDIENTS for Yogurt Chicken Kabobs:
1 tsp ground red pepper flakes
1 tsp (Spanish) smoked paprika
1 tsp (Hungarian) sweet paprika
2 tsp coarse kosher salt
1 tsp fine ground black pepper
2 tbsp tomato paste
6 garlic cloves peeled and smashed
2 whole lemons thinly sliced
2 tbsp red wine vinegar
3 tbsp olive oil
1 cup whole milk Greek Yogurt
2 1/2 lbs. chicken thighs
1 package extra-long wooden skewers (Can find these right at Stop & Shop)
1 package cherry or grape tomatoes
1 or Vadalia sweet onion sliced into 1″ pieces
Mediterranean Yogurt Chicken Kabobs DIRECTIONS:
Soak wooden skewers in water for 1/2 hour
Add paprika spices and ground red pepper to a small bowl with 1-2 tbsp warm water (to soften) 5 minutes
Take next 9 ingredients in above list and add to large mixing bowl
Add in spices when they have softened
Mix everything with a spatula then add in chicken pieces and toss to coat
Cover with saran and pop into the frig for 24 hours
Take out and skewer 4-6 pieces of chicken onto each skewer
OPTIONAL: Skewer cherry tomatoes and onion alternating pieces
You can also alternate chicken, tomato, onion, chicken and repeat
Grill on high for 7-8 minutes on each side (even with veggies in the mix)
Serve grilled chicken and tomato/onion on naan or pita bread with tzatziki, and hummus or rice ….YUM!
INGREDIENTS for Tzatziki Sauce:
1 16 oz. container of whole fat Greek yogurt
1 English cucumber
1 garlic clove put thru garlic press
1/2 cup chopped fresh dill
2 tbsp rice wine vinegar
1 tbsp red wine vinegar
1 tsp salt
1/4 tsp pepper
1/2 tsp cumin
juice from 1/2 fresh lemon
2 tbsp good extra virgin olive oil in sauce and some to drizzle on top at the end
DIRECTIONS for Tzatziki:
Slice cucumber in half-length wise, then in half crosswise
Scoop out middle seeds and discard
Grate cucumber halves into a large bowl
Put cucumber gratings into a Ziploc baggie and add 1/2 tsp salt, let sit for 1 hour or over night
Unseal a small corner of the Ziploc & drain water from baggie squeezing the grated cucumber
Add grated cucumber to a medium bowl, and pat dry with paper towels to remove any excess water
Add fresh dill, garlic, s&p, cumin, lemon juice and Greek yogurt to grated cucumber, mix til creamy texture
Drizzle 2 tbsp good extra virgin olive oil on top and voilà you have tzatziki
INGREDIENTS for TOUM – Lebanese Garlic Sauce:
1 cup peeled white garlic
2 1/2 cups vegetable oil
1/4 tsp salt
1/2 cup fresh lemon juice
DIRECTIONS for Toum: Approx Time 12 minutes
Add 1 cup peeled garlic and salt to food processor and pulse 3 times
Scrape down sides
Begin the garlic-vegetable oil emulsion by SLOWLY beginning to drizzle in the oil – This will take about 12 minutes to slowly drizzle in all of the oil
When you have reached adding in 1/2 cup of oil you will need to stop and scrap sides one last time then start up processor again and resume adding in oil, at about 1 cup of oil mark begin to add 2 tsp of lemon juice – KEEP food processor going the WHOLE TIME
Go back and forth from oil to lemon juice until it's finished (I begin to add 3 tbsp of lemon juice at a time after about 1 1/2 cup of oil mark)
You should see the volume doubling then quadrupling
At this point the toum will be thick and foamy
Since the food processor has been running for a while now you will need to let it COOL and put into a container but DO NOT seal at this point because any condensation will ruin the texture of the toum and all your hard work
Just loosely cover with a paper towel til COMPLETELY COOLED
At this point you can seal with a top
It will last in the frig for a couple of weeks
Serve with the yogurt marinated chicken kabobs, sauté vegetables, brush on grill items, naan, pita bread, ciabatta for garlic bread … the options are endless ENJOY 🙂