Chocolate Eclairs with The French Club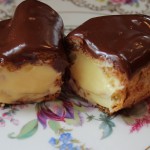 Making Chocolate eclairs with The French Club this week made for an incredibly fun afternoon! The Chocolate eclair shells made from pâte à choux, a french pastry dough, is a cinch to make and so delicious you may find your self wanting to make them this weekend.
The method I use to make the pastry cream is simplistic and straight forward. This method for making the pastry cream I got from one of Martha Stewart's chefs, Thomas Joseph. I wanted to show you an easier way to prepare the custard then your traditional tempering of the eggs method, especially if you have never tried to make this before. The actual recipe for the pastry cream is from my own collection and playing around with recipes over the years.
As for the pâte à choux dough, what can I say, but wow! Although, this is a French dough with French ties it is also noted that Catherine de Medici left Florence in 1533 to marry the Duke of Orleans who later became Henry II, King of France. She brought with her the entire court which included her chefs! Smart woman is all I can say. A few years later her head chef, Panterelli, invented a hot paste-like dough and called it pâte à Panterelli. Of course, the recipe has evolved some what since then and with a couple of names changes too but with the same idea. It's a dough with a paste like texture that use's heat and moisture-steam for a raising agent instead of the baking powders that we use so much today.
These chocolate eclair's are easy to follow and so worth the effort. You should really give it the ole college try because your family and friends will be thanking you! In between making the pastry cream and the pâte à choux you may want to prepare some other great dishes like lobster mac & cheese,  pulled beef taco's and mango salsa or some homemade pasta  and Turkey meatballs that are simpler then you think! And for a nice salad you could check out my Caesar salad with homemade croutons …that's always a crowd pleaser!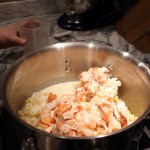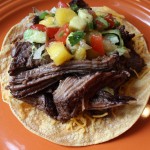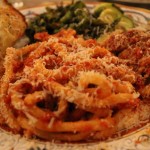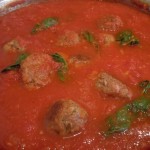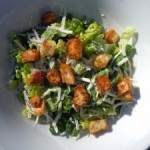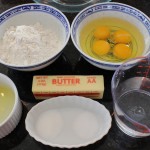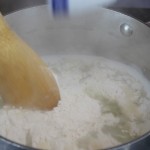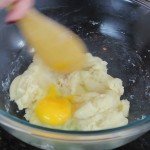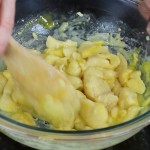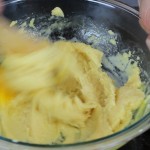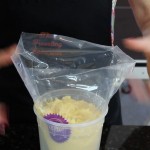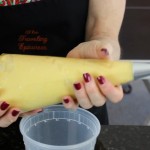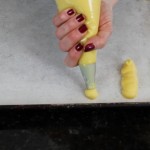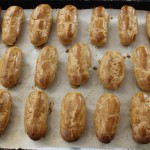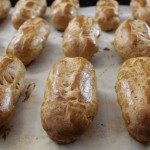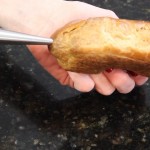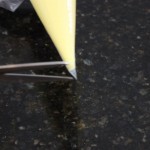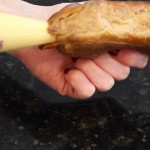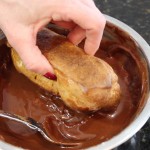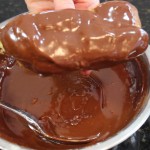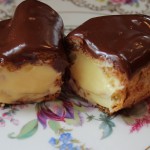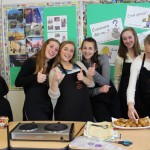 Ingredients for the Pâte à Choux: :
1 stick of unsalted butter
1 cup water
1 cup flour – all purpose
1 tsp sugar (only for desserts)  (not for gougeres)
1/2 tsp salt
4 lg eggs
1 egg + 1 1/2 tsp water whisked together – for egg wash
Directions for the Pâte à Choux:
Preheat the oven to 400º degrees

Line a cookie tray with a piece of parchment paper – when you are done making the pate a choux squeeze out 4 dime size pieces of dough on each corner of the cookie tray, then place parchment over that – to hold in paper in place while you form eclairs
Bring the water, butter, salt and sugar to a rolling boil over medium-high heat in a medium size sauce pan
Stir in all of the flour and continue to stir vigorously with a wooden spoon for about 1 1/2 minutes – which will start to make a film on the bottom of the pan
Turn out flour-egg  mixture into a large glass bowl and stir to cool for 1 minute
Crack eggs into a bowl to make sure there are no shells
Begin to add one egg at a time into the dough and keep mixing with a wooden spoon
The mixture will look broken up at first but no worries because it comes back together
After each egg is absorbed into the flour mixture ADD another egg and repeat stirring
Spoon the Pate a Choux dough into a pastry bag … I don't even use a tip here
Cut about 3/4″ off the end of the pastry bag
Twist down the open end of the bag a little to keep dough enclosed and to put pressure on the cut off end
Squeeze out 3-4″ x 3/4″ rows of Pate a Choux dough to form eclairs making sure they are about 2″ apart
Brush with egg wash and smooth with your finger if needed to smooth any bumps
Put into 400º oven for 15 minutes
Turn down to 350º for another 25 minutes
Turn oven off and open door 5″ but leave eclairs in the oven to dry out another 10 minutes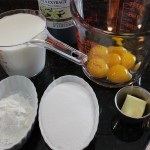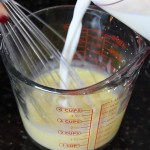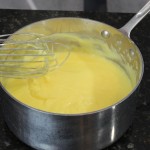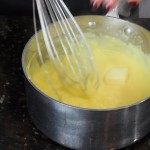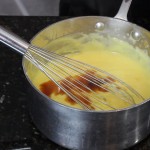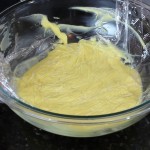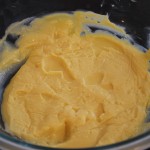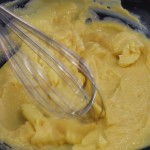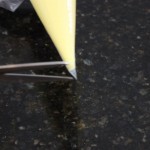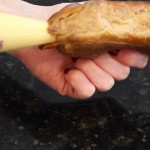 Ingredients for the Pastry Filling:
2/3 cup granulated sugar
1/4 cup cornstarch
Pinch of salt
2 cups milk room temperature
6 lg eggs yolks room temperature
1 tablespoons unsalted butter
2 teaspoons pure vanilla extract
Directions for the Vanilla Custard Filling:
In a medium sauce pan add sugar and corn starch and whisk to combine
In a medium bowl whisk milk and egg yolks until combined
Whisk in milk and egg mixture into sugar and corn
Turn heat to medium/high and bring to a boil
As soon as it comes to a boil whisk 5 SECONDS ONLY and TAKE OFF HEAT continually whisking, after 5 seconds put BACK ON heat for 5 SECONDS and IMMEDIATELY take off heat
DO NOT BOIL ON HEAT FOR MORE THAN 10 SECONDS or the texture will become grainy
Add in butter and vanilla while still whisking
Strain the custard into a glass bowl
Stir to cool slightly and cover directly onto custard saran wrap OR Pour into a prepared tart shell, then into the frig and when cooled and thickened top with fresh sliced fruit and voilà another dessert! …just saying 🙂
Place into the frig for atleast 2 hours up to 3 days
Take the thick pastry cream out of frig and whisk til smooth -5 seconds and the texture will become smooth and ready to place in the pastry bag to pipe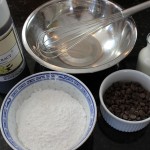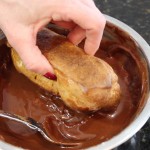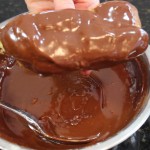 Ingredients for the Chocolate Dipped Toppping:
4 oz. semisweet chocolate chips
1/2 cup heavy cream
1 cup confectioners sugar to desired thickness
Directions:
Heat the cream to a small sauce pan and bring to a boil
Pour the hot cream over the chocolate chips and vanilla in a medium size bowl and let it melt the chocolate for 2 minutes
Whisk the cream and chocolate until smooth
With a whisk slowly add in confectioners sugar while whisking until smooth
If the chocolate gets cooled and too thick to dip heat for a minute over double boiler
Dip the tops of the eclairs in the warm chocolate glaze
Set on a cookie tray
Place into the frig uncovered for at least 1 hour to set the glaze
Serve chilled…YUM!