CT Style Holiday Show with Ryan & Sarah Making Bolognese!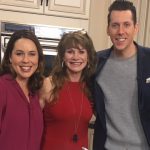 Holidays are for bringing family and friends together and making special dishes! On the CT Style Holiday Show this past Friday I show you guys an all time favorite of mine for bolognese. If you missed the live show you can watch it on Christmas day when WTNH Channel 8 airs the taped version or click on the link above.
I am truly grateful to have such a wonderful platform as CT Style to try and insire all of you in the kitchen and share my recipes. Having such creative and enthusiastic anchors at WTNH Channel 8 right by my side make it all that much better! On Friday, I wanted to show my appreciation by making Ryan Kristafer and Sarah Cody an extra special holiday treat by serving my light as a feather homemade gnocchi with the bolognese.
This bolognese sauce is like no other that I have ever had. Over the years I have worked hard to perfect this recipe matching a dish I used to have in Urbino, Italy, where I spent a couple of semesters abroad in college. Now all you have to do is follow my recipe and savour over the most amazing and unique bolognese sauce you'll ever have.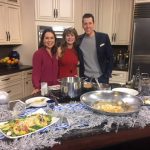 I want to thank The Traveling Epicurean followers for supporting this culinary journey of mine in my efforts to inspire all of you in the kitchen. There's something about igniting a passion that brings people together with good food and good company building memories that last a life time. Wishing you a Merry Christmas, Happy Hanukkah and a Blessed 2018 New Year!
There are definitely some other great recipes you ought to check out that would be great with the homemade gnocchi and bolognese like Crab Balls with Homemade Thousand Island, or Best Buffalo Chicken Dip, and for dessert don't forget the Drunk Blondie Bars with Bourbon Caramel Sauce, Chocolate Crackle Cookies or the Pavlova!