Guinness Chocolate Cupcakes at Ellen's
Guinness chocolate cupcakes are moist and full of flavor with a whole bottle of guinness in this delectable batter! Topping these cupcakes with a rich Viennese Chocolate frosting brings it to another level of gourmet chocolate indulgence.
Just recently, I had a wonderful day meeting and baking with Ellen McMahanon, a true recipe afficionado, where she turned me on to her amazing Guinness chocolate cupcakes. Ellen has been collecting her precious recipes most of her life making very detailed notes of dates, with whom and where she was when acquiring a new favorite one. With hundreds of favorite recipes at her fingertips she still remembers the details like she was there yesterday!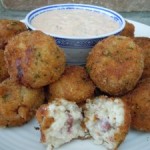 You are definitely going to want to try these Guinness Chocolate Cupcakes with the Viennese Chocolate Frosting and the timing couldn't be more perfect with St. Patrick's Day right around the corner. Looks like you may need a super awesome appetizer that will make use of that left over corned beef too like my Arancini Reuben Balls with Homemade Thousand Island Dressing … always has everyone raving!
You could stay on the road to gourmet with my Chicken Piccata for the main event before serving these Guinness Chocolate cupcakes with Viennese Chocolate Frosting! Or go for the Lobster Mac & Cheese if you're looking for fish. Now that we're talking fish you can really turn some heads with my Swordfish and mango-black bean salsa ! One of my other favorites are the Salmon B.L.T. Sliders with homemade aioli.  Which ever one you choose it will be great with these rich Guinness Chocolate Cupcakes!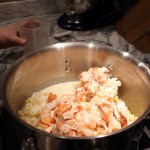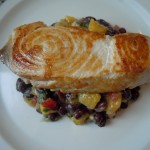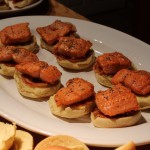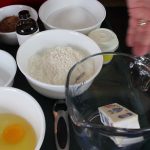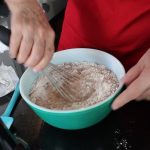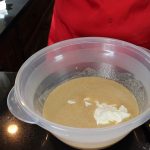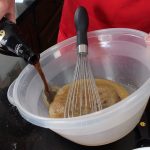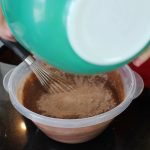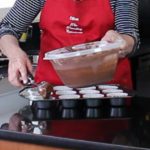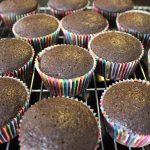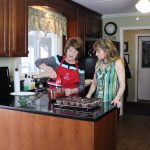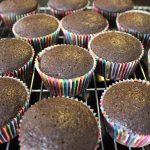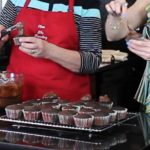 INGREDIENTS:
3/4 cup dutch cocoa
2 cups sugar
2 cups flour
1 tsp baking powder
pinch of salt
1 stick of butter (1/2 cup butter) melted and cooled
1 tbsp vanilla
1 bottle Guinness -12 oz.
3 lg eggs
3/4 cup sour cream
1 recipe (below) Viennese Chocolate Frosting cooled
DIRECTIONS:
Make 1 recipe Viennese Chocolate Frosting – cooled
Pre-heat oven to 350º
Line muffin tins with paper liners
In medium bowl whisk together dry ingredients:  cocoa, sugar, flour, baking soda and salt
In another large bowl combine wet ingredients: whisk melted butter and vanilla
Stream in 1 bottle of Guinness beer into butter and vanilla
Begin whisking side to side adding in 1 egg at a time to the Guinness
After whisking in all the eggs, add in the sour cream and whisk to combine til smooth
Add dry ingredients to the wet ingredients in 3 stages, stirring to just combine after each addition
using a scoop fill the cupcake liners to 3/4's full
Bake for 15 minutes
Wait 5 minutes, then remove cupcakes to cookie rack to finish cooling
Frost with Viennese Chocolate Frosting
VINNESE CHOCOLATE FROSTING:
6 oz – 1/2 bag Ghiradelli chocolate chips
1 stick of salted butter
1/4 cup water
4 egg yolks – slightly beaten
1 tsp vanilla extract
2 tbsp SIFTED confectioners sugar
DIRECTIONS:
Add chocolate chips, butter and water to a heat proof glass bowl
Microwave 20 seconds, stop & stir, then microwave 10 seconds more til melted & creamy.
Let cool to rm temp then stir in egg yolks and vanilla
Whisk in SIFTED confectioners sugar
Chill this mixture in the frig for 1-2 hours til thickened
Using a mixer for 30 seconds bring this thickened frosting to a creamy consisitency
Top each cupcake with a small scoop of this Viennese Chocolate Frosting, then smooth with a knife…,,,!