Broccoli Slaw
In this recipe I am using pre-pakaged broccoli slaw from the store.  Sure you can shred it yourself but sometimes with all our hectic schedules running here and there it's nice to be able to take a short cut and still have great taste.  Cole dressing is super simple as you will see below. I upped the mayo to 1/3 cup from 1/4 and the sugar from 2 tbsp to 3 tbsp because I like it a little saucier but I will leave that up to you!
You really ought to try my EASY Pulled pork sliders with this slaw and don't forget the homemade BBQ sauce with Bourbon….outrageous!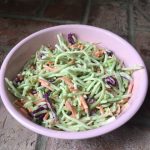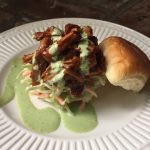 Ingredients – NOTE For a LITTLE LIGHTER SAUCE USE 1/4 CUP MAYO AND 2 TBSP SUGAR:
4  cups broccoli Slaw (you can buy pkg slaw at the store)
1/3 cup mayo ( I use Hellmans only)
2 tbsp cider vinegar
2 Tbsp seasoned rice wine vinegar
3 tbsp sugar
1 Tsp Siracha or Tabasco (Siracha is a hot chili sauce sold next to Tabasco at the store)
S & P
Directions:
Place all of the ingredients in a bowl, mix and serve.
This slaw goes great with my Easy Pulled Pork Sliders done nice and easy in a crock pot.
And if you have a little extra time you can add a Green Goddess Sauce to the sandwich that can actually be done a couple days ahead and while you are at it don't forget the Homemade BBQ Sauce!