Bolognese Sauce Easy Gourmet RECIPE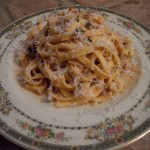 This homemade gourmet bolognese Sauce is like no other that I have ever had. Over the years I have worked hard to perfect this recipe to match a dish I used to have in Urbino, Italy. So all the hard work is done for you and now all you have to do is follow my recipe and savour over the most amazing and unique Bolognese sauce you'll ever have.
During my college years I had the opportunity to go school in Urbino, Italy for a summer and fall semester. Urbino is a little Renaissance town located in the Marche region of Italy. It was two hours East of Florence (near the town of Pesaro on the east coast). It's where black and white truffles are prevalent. The picture above is of Urbino, The Palazzo Ducale which now houses part of The Marche National Gallery. This renaissance town of Urbino is also where the great artist Raffaello was born in 1483. I had the opportunity to study renaissance art, restoration and language in Italy at the University of Urbino …being an art major and all I was in heaven living here!
Urbino was a magnificent place to be for all those months (which never seemed long enough) allowing me to fall in love with their art, their culture and the people there in Italy and what it's really all about …big kinds hearts with a passion for enjoying life, and an amazing culinary appreciation!
The tender Prosciutto di Parma to mouth watering homemade pasta dishes found most places in Italy is to die for but there's one bolognese dish in particular that I had in a restaurant in Urbino made with "strozzapreti" pasta which really stood out for me. The sauce was made with sautéed ground veal, ground pork, veal stock, heavy cream, red wine and fresh rosemary where the aromas alone will knock your socks off!  This is the dish, the bolognese sauce, in which I have derived my recipe from and the one in which I wish to share with you.  You should note that homemade gourmet bolognese recipe is NOT to be made with BEEF because it completely changes the flavors and does not taste at all like the oringinal bolognese recipe from Urbino.
I recently found this uniquely shaped pasta that they served the bolognese sauce with in Urbino called "StrozzaPreti" at one of my favorite local specialty shops, a gourmet cheese shop called Fromage right here in Old Saybrook, CT.  See, you can make my bolognese sauce and have it with the original pasta it was meant to be with. And while you are there you should pick up some white truffle oil to drizzle over the pasta sauce.
If you want this recipe to be gluten free you could always substitute out the pasta or gnocchi with a rice noodle and if you can't have heavy cream you can substitute that with coconut cream and it would be just as delicious.
A marriage made in heaven is this bolognese sauce on my light and fluffy homemade potato gnocchi! Or try it on your own homemade pasta, and don't forget a Caesar Salad! Last but not least you will need to tame that sweet tooth with a dessert like Pavlova, or Death by Chocolate Meringue Pie! Enjoy! 🙂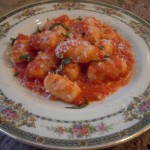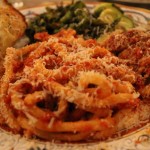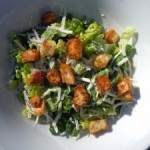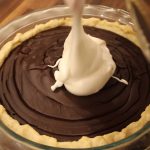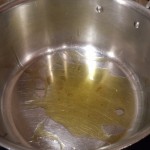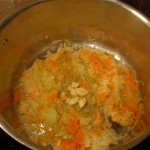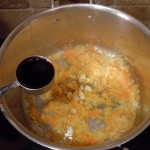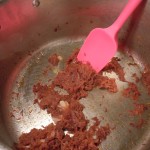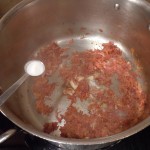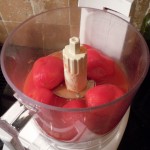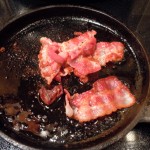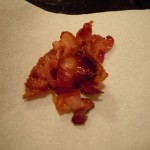 INGREDIENTS: Serves 10-12 people or more if for appetizers.    
NOTE: THIS SAUCE FREEZES AMAZINGLY WELL so if you have sauce left over freeze in a container right away and all the hard work is DONE!
NOTE: DO NOT USE BEEF …this recipe will NOT have the right flavors if you use beef
1 lb. ground veal
1 lb. ground pork
1/3  cup grated carrots
1/4 cup grated celery
1 cup grated Vadalia Onion
2 extra lg garlic cloves
2 cups whole peeled tomatoes and juice
2 slices applewood smoked or plain bacon cooked and finely chopped (approx 3 Tbsp finely chopped)
1 1/2 cups good red wine
2 cups heavy cream (or 2 cups coconut cream)
approx. 1/2 cup olive oil
1  1/2 tsp salt
1/4 tsp pepper
1/4 cup grated Reggiano Parmesano cheese and more to finish
1  tsp  and 1 Tbsp fresh chopped rosemary
White Truffle Oil (Optional)
1 lb. dried Egg fettuccine or Strozzapreti pasta found at Fromage
Directions:
Add 3 tbsp olive oil to lg pan on medium/low
Add grated carrots, celery, onion and smashed garlic cloves to olive oil and sauté for 12 minutes til light golden and soft
Deglaze by adding 1/4 cup red wine, stir, add 1/2 tsp salt and continue to sauté until wine evaporates
Add these cooked veggies to food processor with 2 cups whole peeled tomatoes and juice
Pureé and set aside
Add 3 tbsp olive oil to same pan and bring to med/high temp and then add 1 lb. only of veal/pork (1/2 veal, 1/2 pork)
Keep on med/high temp and brown meat
Deglaze first batch of meat with 1/4 cup red wine, stir, reduce and set aside in a med bowl
Add 3 tbsp more olive oil back to same pan to brown next 1 lb. of ground veal/pork
Repeating steps 6-9
Put all browned meat back into pan and add in 1 tsp salt, 1/4 tsp pepper, pureed tomato/veggie mixture, and 1/4 cup red wine, 3 tbsp finely chopped crispy bacon, and 1 tbsp finely chopped rosemary
Cover (leave small opening for steam to evaporate) and simmer for 1 1/2 hrs. stirring every 20 minutes making sure to let steam from inside cover drain out of pan when you lift it off to stir
Add in 2 cups heavy cream, 1 tbsp finely chopped fresh rosemary, 1/2 cup red wine and s&p to taste and simmer for 5-8 minutes …just need to warm thru
Boil 1 lb. pasta and add to bolognese sauce …mangia mangia!