Bloody Mary Shrimp & Mango-Curry Shrimp At Nancy's
Bloody Mary Shrimp & Mango-Curry Shrimp in Wonton Cups
These two homemade shrimp appetizer's are fun and delicious! Bloody Mary Shrimp and Mango-Curry Shrimp in wonton cups will soon be on your go to list for summer appetizers! My good friend Nancy passed these wonderful recipes on to me which she found at epicurious.com. They certainly have a an enormous assortment of recipes there to choose from and sometimes it can be overwhelming finding the ones you like so I feel fortunate to have a fellow foodie pass these on.
These two shrimp appetizer's just might be the easiest and most delicious recipes you'll have this summer. The Bloody Mary shrimp is so flavorful with all the same condiments that make up "the" cocktail including the vodka but in little nibble sizes.  Serving up this appetizer on a spoon makes for a lovely presentation too. You can find these spoons at party stores and sometimes even at Stop & Shop.
The Mango-Curry Shrimp in wonton cups is another winner with a variety of fresh flavors from the green curry sauce to the mango chutney which both come prepared from the specialty section of the grocery store totally saving you time in the prep department …Hallelujah! You know me with the mayo thing … as much as I love my Hellman's Mayo I do like to cut the mayo with some plain Greek yogurt to give it a little tang and a wonderful fresh texture so I give you that option in the list of ingredients for this appetizer.
It was an enjoyable day shooting this show and having my good friend Nancy share with us a couple of her favorite appetizer's that she frequently entertains with. We will definitely be back cooking with Nancy this summer and visiting her garden to pick heirloom tomatoes for that scrumptious homemade Tomato Tartan! Hope you enjoy the show and let me know how you like the Bloody Mary Shrimp & Mango-Curry Shrimp appetizer's.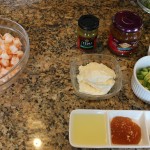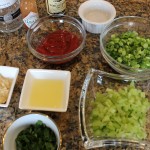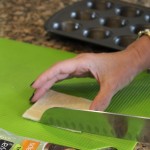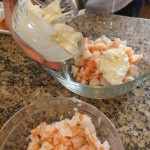 Ingredients For THE BLOODY MARY SHRIMP:
1 pound medium shrimp in shell, peeled and de-veined
1 1/2 cups thinly sliced celery (2 -3 ribs)
1 cup thinly sliced scallions (about 6)
Directions For THE BLOODY MARY SHRIMP:
Bring a large saucepan of salted water (2 tablespoons salt for 2 quarts water) to a boil.
Add shrimp, then remove from heat and let stand in water until cooked through, about 5 minutes.
Drain in a colander and cool to room temperature, about 30 minutes.
Cut shrimp into thirds and transfer to a large bowl with celery and scallions.
Ingredients For THE SAUCE:
1/2 cup ketchup
1/4 cup vodka (preferably Absolut Peppar)
1/4 cup fresh lemon juice
2 tablespoons bottled horseradish (not drained), or to taste
1 teaspoon Worcestershire sauce
1 teaspoon Tabasco OR Siracha (also found where the tabasco is shelved at the store)
S&P to taste
Directions For THE SAUCE:
Whisk together all sauce ingredients
Just before serving, stir sauce into shrimp mixture.
Spoon 2 shrimp pieces with vegetables and sauce into each soup spoon and arrange spoons on a platter.
NOTE: Shrimp can be cooked and tossed with vegetables 4 hours ahead, then chilled in a sealed bag. Sauce can be made 1 day ahead and chilled, covered. Mix the sauce and shrimp right before serving.
Ingredients For THE MANGO-CURRY SHRIMP:
12 wonton wrappers (from one 12-ounce package), each cut into squares
Vegetable oil
1/3 cup mayonnaise OR split the 1/3 cup mayo in half with Greek yogurt
2 tablespoons chopped fresh cilantro
5 teaspoons fresh lime juice
2 teaspoons mango chutney
1 teaspoon Thai green curry paste (Thai green curry paste is available at Asian markets and in the Asian foods section of some supermarkets)
12 ounces peeled cooked medium shrimp, coarsely chopped
1 cup Fresh cilantro leaves coarsely chopped
Directions For THE MANGO-CURRY SHRIMP IN WONTON CUPS  – Pre-Heat oven to 325º:
Preheat oven to 325°F.
Place wonton squares on work surface and brush lightly with oil
Press each into miniature muffin cup, oiled side down
Bake until wonton cups are golden brown, about 10 minutes
Cool completely in tins -Can be made 3 days ahead
Remove cups from tins and store airtight at room temperature
Whisk mayonnaise, chopped fresh cilantro, lime juice, chutney, and curry paste in medium bowl to blend
Stir in shrimp. Season salad to taste with salt and pepper. (Salad can be prepared up to 1 day ahead – Cover and refrigerate
Place wonton cups on serving platter
Spoon 1 tbsp shrimp salad into each cup
Garnish with cilantro leaves