Black Bean Salsa & Swordfish Recipe
2015 is here so let's not procrastinated and get right down to business with some refreshing and heathy dinners. You can't beat this black bean salsa & swordfish with its nutritional values and taste to boot! It's so nice to brighten up our menu after the starchy celebratory holiday meals. With this black bean salsa you still get that "comfort food" feeling because the black beans are so creamy and filling. Black beans are considered to be the best "meat-free" sources of protein serving up 15 grams each of protein and fiber per 1 cup…not to mention black beans have the highest antioxidant level of all beans!
I first learned how to make salsa almost 20 years ago from a Chef in San Franciso name Barclay. He was a chef at one of my favorite restaurants in San Francisco called Bix (on Gold St.) Bix had foie gras that was to die for and the most outrageous bar burgers that had to be made from filet mignon because they melted in your mouth like butter! Needless to say Barclay made a killer salsa and I'm thankful to him for starting me out on the right path when it came to making salsa.
This black bean salsa is almost identical to my "best mango-avocado salsa ever" on my website except I minus one mango and add 2 cans of Goya black beans. This is a such a quick and easy recipe and if you don't have time for the chopping you've got to check out the produce department at your local store because most of them do offer a section of pre-chopped vegetables or you could pre-chop everything yourself the night before you put this dinner together.
Fresh swordfish is now being caught off the Carolina's so it's an ideal fish to buy. Swordfish is a hardy kind of fish and eats like a steak so it is very filling. The oils in the swordfish are also as nutritious for you, if not more, as eating that black bean salsa. So what a team this black bean salsa & pan seared swordfish makes…you just can't beat it! The best thing is it doesn't have to be summer to whip this meal up either…enjoy. Make sure to watch my YouTube cooking show that goes with this recipe and don't forget to subscribe on my YouTube channel so that you can receive my latest cooking show releases!
You may want to try baked asparagus wrapped in prosciutto, or roasted chick peas for an appetizer and the chocolate avocado mousse for dessert to go along with this dinner.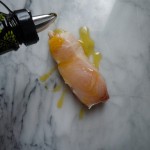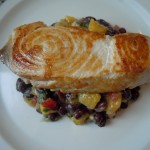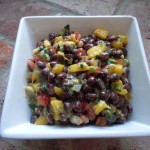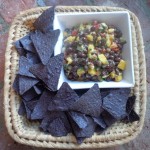 INGREDIENTS: You need approx. .30 lbs per person for the swordfish
NOTE: CLICK HERE If you need some guidance on cutting up the avocado and or mango AND look to directions in that recipe
2 cans Goya black beans drained and rinsed
1 lg mangoes chopped 1/4″ cube
1 avocado chopped 1/4″ cubed
1 cup or 2 med/lg size tomato's or 5 small tomato's chopped 1/4″ cubed
1 cup or 1/2 extra LG Vidalia onion (or yellow) FINELY chopped
1 FINELY chopped jalapeno
juice from 1 lime
3 Tbsp olive oil
2 Tbsp rice wine vinegar
1/2 cup coarsely chopped cilantro
a dash of Siracha (optional)
S & P
1-2 lbs of fresh swordfish cut up into .30 lbs pieces per person
DIRECTIONS: Pre-Heat oven to 350º
Add all of the salsa ingredients ( all the first items in the list except the fish) into a large bowl and mix thoroughly.
Cut up the swordfish into .30 lb pieces and salt and olive oil them
Heat cast iron pan or heavy bottom pan to med/high
When pan is hot add in swordfish and sear 3 minutes on each side and then put into the oven for 5 minutes to finish
Spoon up salsa in the center of the plate and place a piece of swordfish on top
Squeeze a piece of lemon over the top and mangia mangia : )
We really love to eats this salsa with blue chips.
I have also served this salsa up on the tips of endive leaves, and or with a cooked shrimp on top of that ….yum!
I must warn you this salsa is highly addictive……consume at your own risk! LOL