Best Guacamole Ever!
This best guacamole ever recipe will definitely change the way you look at that mixture they call guacamole at the market. I find most of the brands out there both watery and mysterious. Why chance quality. The simple fact is, when my best guacamole recipe is so simple to make why settle for second rate! Even the amounts of finely chopped sweet onion, tomato, jalapeño and cilantro in this recipe are minimal so there's not a whole lot of prep going on either. These amounts are just enough to add hints of lovely flavors and not take away from the sweet creamy California avocado's.
Avocado's are on sale just about every other week at the market so take advantage of this and load up. You can never buy too many and they don't all have to be perfectly ripened right at that moment. They will ripen on your counter in a matter of days.
If I am not serving this best guacamole ever right away I put one of the avocado pits back into the middle of the guacamole, cover it with saran wrap and put it into the refrigerator until I'm ready. The saran wrap should go directly onto the surface of the guacamole so as not to let the dip oxidize and turn brown. If part of it does oxidize just skim that part off with a spoon and there will be a fresh green surface underneath. And, when making guacamole it's best when it's eaten the same day, or definitely by the next.
If you are a big fan of avocado's you really need to try chocolate avocado mousse! My pulled beef taco's would be incredible with the best guacamole ever. Serve up a variety of appetizer's for your get together and add in Sweet potato fries  and salmon gravlax, both incredibly delicious and fun eats! A chocolate pecan pie just might put the party right over the top! Enjoy! 🙂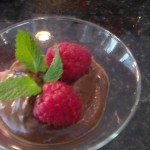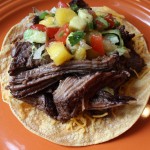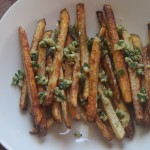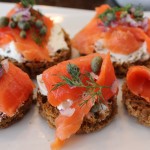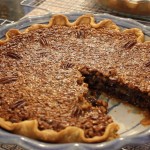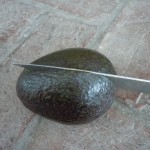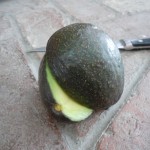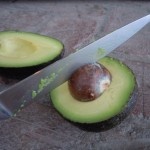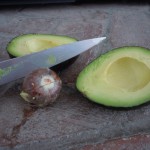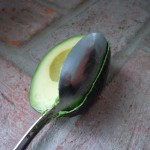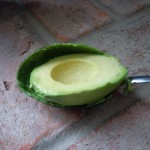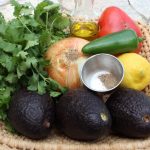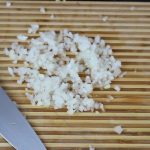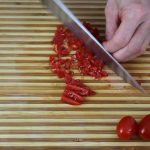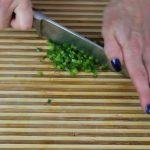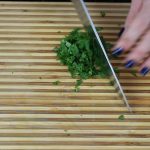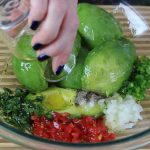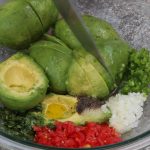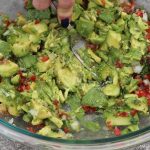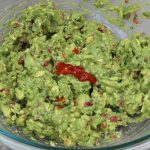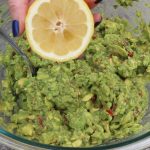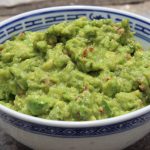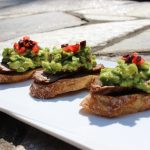 Ingredients:
3 small/med size ripened California avocado's
1/4 cup finely chopped Sweet or Vidalia onion (Georgia onion)
1/4 finely chopped sweet tomatoes any color (cherry tomatoes, heirloom tomatoes…your fav)
1/4 cup chopped cilantro (fill 1/4 cup first with whole leaves then chop that)
1/2 of a lg jalapeno, finely chopped with seeds removed, approx. 2 tbsp
2 tbsp extra-virgin olive oil
1 tbsp rice wine vinegar "seasoned" – (rice wine vinegar and olive oil are my secret ingredients that give the guac that little someting extra!)
1 tsp fresh squeezed lemon juice
1/4 Tsp salt
1/4 Tsp Pepper
2 dashes of your favorite hot sauce …I use Siracha (which is sold right next to the Tabasco)
Directions:
Slice and remove avocado flesh from the skins as shown in the photo above and place in a large bowl, save one of the avocado pits to add to dip at the end
Slice off any black or dark spots on the avocado's and discard
Finely chop sweet onion, tomatoes, jalapeno and cilantro and add to bowl with avacado's
Add in s&p and olive oil and rice wine vinegar
Begin to slice halved avocado's with a knife to help break them up
Then begin to mash with a fork and stir around all of the ingredients
Lastly add Siracha (hot sauce) and 1 tsp of lemon juice
Mix gently to combine and add pit to the middle of the guacamole
The pit helps to preserve guacamole until it get's all eaten up 🙂
Serve with chips, turkey or beef burgers, salsa

 …be creative!