BEST Crab Cakes Ever!
These Crab cakes made from super lump crab are a no nonsense kind of crab cake. I'm tired of all the fillers in crab cakes so this one get's right down to business. There aren't any vegetable filler's here just large pieces of crab. I serve my homemade thousand island dressing along side the the crab cakes making for the perfect pair.
The crab cakes are a snap to make. There's no chopping or sauteing of vegetables for filler. You whisk the wet ingredients first and then fold in the crab so the super lump crab pieces remain in tact. It's so nice to actually bite into large pieces of crab.
Out of the many recipes that I have tried over the years I like this one the best. It originated from the crab product itself "Captain's Catch Super Lump Crab Meat" but of course I have made a few little changes to the recipe so it's right where I want it.
You will probably spend any where from $16.00 – $32.00 for the can of super lump crab depending on where you purchase your crab but it is so worth it. From 1 lb. of crab I make 12-16 crab cakes depending on the sign of course. You can even make them a little smaller into crab cake balls for bite size appetizer's. Have fun making these and don't forget to nibble on the large pieces of super lump crab while you are putting these jumbo crab cakes together…my kids and I love these nibbles.
You may want to have a nice homemade Caesar salad with your best crab cakes ever, some baked sweet potato fries with green goddess dip, or even pulled beef taco's. If you then crave something sweet you can venture off to chocolate crackle cookies, or Honey Dripping Baklava!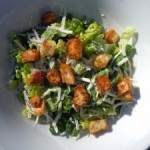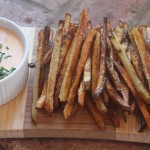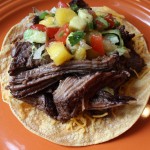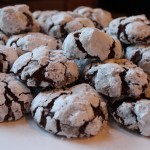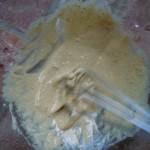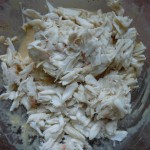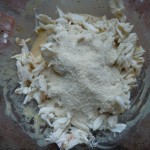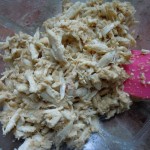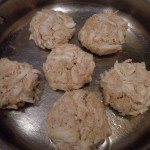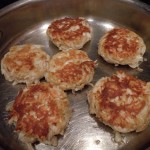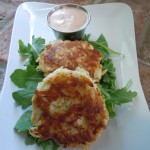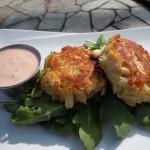 Ingredients for Crab Cakes OR Crab Cake Balls:
1 lb can of super lump crab meat – (find it in the refrigerated section)
1/4 cup PLUS 1 tbsp plain PANKO bread crumbs (pulse panko bread crumbs in the food processor for 20 seconds)
1 beaten ex-lg egg
2 1/2 Tbsp Hellman's mayo
1 Tbsp Dijon – Grey Poupon or Maile
1 tsp Worchestershire
1 tsp Dry mustard – Coleman's
1 tsp Old Bay Seasoning
1/4 tsp onion granules
1/2 tsp fresh lemon juice
1 lemon sliced in wedges
Homemade Thousand Island Dressing (below)
Directions:
Put panko bread crumbs into food processor and purée for 20 seconds until a fine crumb
In a large bowl whisk together mayo, egg, Dijon, Worcestershire, dry mustard, old bay, and lemon juice
Add in super lump crab and fine panko bread crumbs
Using a spatula gently mix crab and fine bread crumbs with egg-mayo mixture making sure not to break up crab pieces
Form into a round shape and flatten out with your thumbs while still holding in sides forming crab cakes OR use cookie scoop and form into round balls
Place onto a plate and put into frig for at least 2 hours
Add 2 Tbsp olive oil plus 1 tbsp butter to a large over sauté pan medium/high heat and gently add crab cakes…once they begin to sauté they will hold together better
Sauté for about 3 minutes on the first side and gently flip or roll to sauté another 2 minutes until golden on the other side
Serve with my Homemade Thousand Island Dressing (recipe below)
Thousand Island Dressing:
1/2 cup Greek yogurt
1/2 cup mayonnaise (I ONLY use Helman's)
1/3 cup ketchup
1 Heaping tbsp finely chopped cornichons
3 tbsp sweet relish
1 Heaping tbsp grated sweet onion
1 Heaping tbsp finely chopped fresh parsley
2 tbsp creamy horseradish
1 tbsp olive oil
1 tbsp "seasoned" rice wine vinegar
2 dashes of Siracha
Place all of the ingredients in a large bowl and whisk until combined