Baked Asparagus wrapped in Proscuitto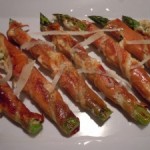 I first had these delicious little bundles at my sister-in-law Anita's seventeen years ago.  She is an amazing chef is always cooking up a storm. These Proscuitto wrapped Asparagus are one of my favorite appetizers and can be a topping to a salad or a pretty side vegetable to lunch or dinner. What's great about this appetizer is it can totally be made ahead of time (the day before preferably) placed on a cookie tray and into the frig until you need to put them in the oven.  The asparagus is blanched before they are wrapped with Proscuitto and shocked into an ice bath to stop the cooking and to keep that vibrant green color.   When buying the prosciutto you want to make sure it's Proscuitto di Parma because it's the best and has the most delicate flavor.  There are other tasty Proscuitto's but they are not as tender as the Parma and may get too salty or waxy after baking.  The slices of the Proscuitto will vary in size and usually large enough where you can cut a piece right down the middle vertically and get 2 out if it . You can add in other hors d' oeurves if you are having a party like baked coconut shrimp, zucchini torta, roasted chick peas, or smoked salmon on crostinis with cream cheese-caper spread.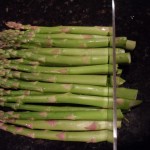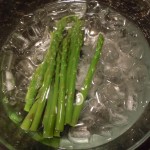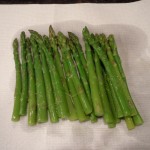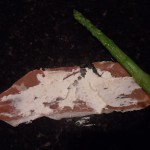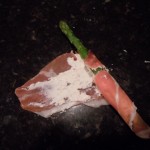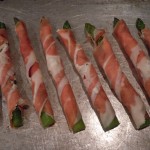 Ingredients:
20 large asparagus (the bigger the better)
1/4 lb Proscuitto di Parma sliced thinly
4 oz cream cheese room temp (Philadelphia)
1 Tbsp grated vidalia onion (yellow or white is fine too)
1/2 cup grated Parmesan cheese
1 Tbsp fresh lemon juice
Directions:
Pre-heat the oven to 400º.
Hold the asparagus with your fingers in the middle and on the end and bend.
The asparagus will break where it's supposed to.
Line them up and cut evenly across the bottom so they are all at a consistent length.
Put them into a pan of water with 1 Tsp salt and bring to a simmer approx 5 min only (DO NOT OVER COOK). Drain and put into a ice bath.
Dry the asparagus with paper towels.
At this point you can pop them into a zip lock and into the frig until you are ready for them.
Mix together in a small bowl the room temperature cream cheese, grated onion, Parmesan and lemon juice just til combined
Take a piece of Prosciutto and smear 1 Tbsp of the cream cheese mixture down the length of it.
Place the asparagus on a bit of a diagonal (see photo) and roll up.
Place onto an ungreased cookie sheet and bake for 7 minutes.
Use a spatula to remove from pan and be sure to flip them over when you plate them to see the lovely caramelization on the under side.
Drizzle a little olive oil, a fresh squeeze of lemon and some shaves of Parmesan on top for a little extra!
 TIPS:  Using a micoplane grater or rasp to grate the onion is a wonderful culinary tool which actually started out back in the day as a wood planer for woodworkers!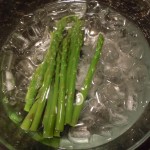 Tips: Shocking the asparagus or any vegetable for the matter into a ice bath will stop the cooking and keep the vibrant green color.