Panzanella at Chef Marco's
Juicy heirloom tomatoes, creamy mozzarella and homemade golden croutons packed with garlic, purple onions, cucumbers and lots of fresh herbs make up this perfectly scrumptious summertime salad called Panzanella! Basil, parsley, oregano, thyme and a special dijon sauce really give this refreshing salad a delicious flavor and brightness.
I was recently able to coordinate schedules with my foodie friend Chef Marco so he could share his Panzanella recipe with you. Marco and his wife Sheryl, another big foodie, had this amazing dish at their house last summer and it still leaves a fresh impression on my mind. Probably because of all the fresh ingredients that come together with bursting flavor on your first bite.
Even though you can make this Panzanella all year long you couldn't have a more perfect dish to make with the fresh summertime produce the local vendors offer at the farmers markets! Enjoy and make sure to check out Salsa 101, Salmon B.L.T. Slider's, Lobster Mac N' Cheese or Death by Chocolate Meringue Pie for your next get together!
You need to check out the WTNH Channel 8, "CT Style Morning Show" where I featured THIS recipe with Ryan Kristafer and Teresa Dufour! So much fun cooking with them!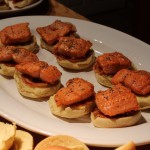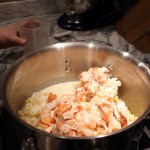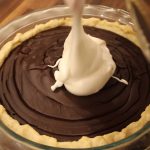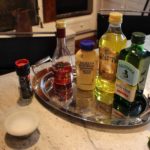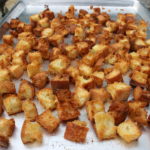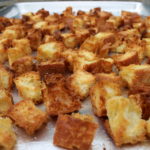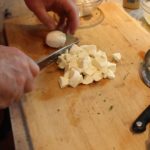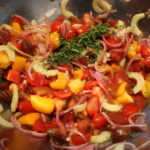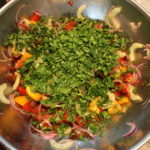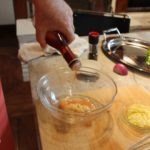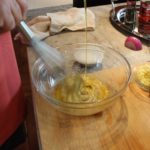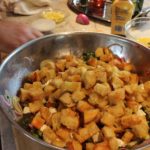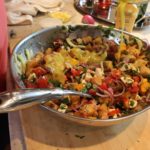 Ingredients for the Panzanella Salad (NOTE: it always a good idea to toast croutons the day before if possible)
1 loaf sour dough bread or ciabatta loaf – make croutons out of the whole loaf using 3 1/2 cups only for this Panzanella Salad, saving the rest of the croutons in a ZipLoc baggie in the freezer for future panzanella dishes!
2 lbs assorted tomatoes, reds, yellow, tiger, heirlooms, etc. cut into 1″ pieces – Ratio is a little more tomatoes to bread
1-2 cup fresh mozzarella cut into 1″ cubes
1/2 cup thinly sliced European cucumber, sliced in 1/2 and seeded…run a small spoon down the center of the cucumber to remove inner seeds
1/2 cup thinly slice purple onion
2 tsp garlic puree -put thru garlic press (1 tsp is for the special dressing below, 1 tsp for Panzanella)
1/4 tsp each salt and pepper
fresh herbs: 1/2 cup chopped basil, 1 tsp chopped oregano, 1/2 tsp thyme, 1/4 cup parsley…all finely chopped
1/4 cup olive oil
1 special sauce recipe below
Directions for the Salad:
Pre-heat Covection oven to 400º
Make special sauce recipe below and set aside
Cut up sour dough or ciabatta loaf into 1″ cube and place on cookie tray lined with foil
Drizzle 1/4 cup olive oil all over the cubed up bread pieces and sprinkle with s & p
Bake the bread until deep golden , about 12 minutes …keep an eye on it not to burn
Let croutons cool completely
Cut up tomatoes and fresh mozzarella into approx. 1 " cubed pieces
Cut cucumber in 1/2 length wise
Peel and seed cucumber running a small spoon down the center to remove seeds then thinly slice cucumber half moons
Cut 1 purple onion in 1/2 and thinly slice
Put garlic thru garlic press
Add tomatoes, cucumbers, onions, garlic puree, herbs and mozzarella to a large bowl
Then add in the croutons, drizzle 1/3 cup of special sauce over salad
Toss and serve immediately…MMM!
NOTE: Add in everything but the croutons and special sauce until right before you are ready to enjoy the Panzanella salad! ENJOY!
Ingredients for ther Special Dressing:
1 heaping tbsp dijon mustard
1 tsp garlic puree
1/4 tsp each salt and pepper
1 tbsp red wine vinegar
1/4 cup exta-virgin olive oil
Directions for dressing:
Add first 4 ingrdients to a small bowl and slowly drizzle in while continuously whisking 1/4 cup olive oil (the dijon will help to emusify dressing)