Welcome to The Traveling Epicurean. I'm Michel Vejar and you need to know 3 things about me: I adore food. I live to travel. And I love sharing my appreciation of fine food and drink. Growing up in New England and making it back here once my two children were born, I find it wonderful that the seasons influence my recipes. Though my kids keep me busy enough, my passion to share my cooking exploits drives this website. I've made it super easy for you to go step-by-step with instructional pictures on my YouTube channel to learn what I continue to hone.  Every cooking episodes is also embedded on my website under, wait for it: "cooking shows!"  Please subscribe to get the latest updates.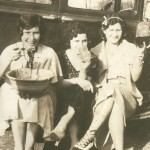 My epicurious life began at a young age spending time in many family kitchens. Like during the holidays when paying a visit to my Aunt Pasqualina's (Aunt Pat is sitting far left in the photograph), I was in awe of her counter tops covered with hundreds of fresh, homemade pasta strands laying out to dry on dish towels. On the kitchen table, always, sat an enormous bowl of homemade Pizzelles (an Italian wafer cookie) covered in confectioners sugar just waiting to delight me, or for that matter, anyone walking into that sweet kitchen.
Some of my fondest childhood memories were the frequent afternoons in my mother Maria's kitchen, where a large pot of slow cooking pasta sauce would be simmering on the stove top permeating the air with tangy aromas. Today, I recreate it often with my spaghetti sauce-tomato and basil wherein I hope to entice my own kids to dunk in a piece of crusty Italian bread. My favorite days came when I was old enough to help make the famous family recipe of all beef meatballs, or roll up homemade manicotti, both recipes originated from my grandmother "Ma" Michela (Aunt Pat's sister, seated center in the photograph).
During college, I studied renaissance art and restoration in Italy at the University of Urbino, located in the Marche region two hours from Florence. It was near the town of Pesaro, where black and white truffles are prevalent. The renaissance town of Urbino is where the great artist Raffaello was born in 1483. This magnificent place I lived for seven months allowed me to fall in love with the Italian culture of culinary appreciation. I determined I was going to be one of those big, kind hearts with a passion for enjoying life once I got a taste of tender Prosciutto di Parma and mouth-watering homemade pasta dishes. One in particular was a Bolognese with pasta called "strozzapreti" made of sautéed ground veal, ground pork, veal stock, heavy cream, red wine and fresh rosemary where the aroma alone will put your nose into ecstasy. When in Italy, why not backpack into Greece? That is where I devoured amazing chicken and lamb souvlaki, fresh calamari salads, creamy feta cheeses and, of course, olives. I left promising never to forget the Greek baked moussaka or honey dripping baklava!
I landed in San Francisco (which I believe is a food Mecca all on its own) for 14 years. A melting pot of exquisitely-mastered ethnic dishes to contemporary cuisines covering all corners of the world from Asian, German, Mexican, Japanese, Indian, and the Mediterranean. My heart is still with me, but it often pines for San Fran-style sushi, potstickers, tandoori, falafels, shrimp and chive dumplings with spicy bean and soy sauce for dipping, and my very favorite, lamb shawermas from Truly Mediterranean.
Along my journey, I've met and cooked with many incredible gourmet foodie friends and chefs. Learning from one another, "old school" self-taught styles (like mine) and others with culinary "school book" styles, always made for outrageous dinner parties where the laughter was loud (my big laugh always right in the middle of it), the smiles were big, and the bellies filled with home-cooked gourmet dishes that wow-ed the best of them!
Now, after years of wonderful experiences catering, teaching cooking classes, cooking show tapings, featured in TV ,print and online publications, it is my big, kind-hearted desire to share my recipes and "How To" cooking shows on my YouTube Channel to make homemade gourmet cooking look as easy as it is.  I hope it inspires you to share the epicurean delights discovered along your own travels. 
Please… ask any question, make any comment (except rude ones), and share your recipe's story.